How fair is fairtrade coffee?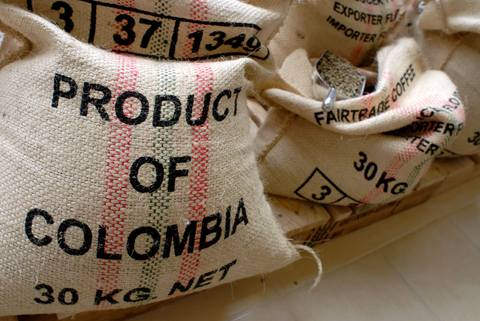 We mentioned previously that coffee is one of the commodities that doesn't only make the world go round with a spring in its step; it is one of those things that keeps the world's economy ticking along too.

There are a couple of things that need to be understood within this context. The first is supply and demand. The greater the supply of any commodity from coffee beans to rubber bands, the lower the demand. This has a knock-on effect on price. The greater the supply, the lower the demand and as a result of this, the price drops as a means of stimulating purchases. The moment the price starts dropping with a high demand scenario, it is almost inevitable that the quality drops too. It is all about keeping up in a cost effective manner with a volatile market.

Problems start popping up when the price drops so low that it is less than the cost of production.

Let's examine this from a coffee perspective. Our farmers plant their seedlings and tend them carefully for five years before the first crop comes in. It is a labour and cost intensive exercise that may only yield a result sometime in the future, if the seedlings make it to maturity. At the time the seedlings are planted, there is a high demand. This means that everyone with a patch of earth is planting coffee. By the time the plants are harvested and brought to market, they literally flood it. There is more coffee available than people to drink it. The price crashes. The farmers receive little or no return on their investment of the last five years. This simplistic summary does not even take into account the risks of bad weather conditions or fungal infections that may result in no crop at all.

In order to address this, farmers start to innovate. Some, like the Vietnamese, begin planting Robusta. It is cheap and hardy and accordingly, a less risky investment. But while it may give you a much needed kick up the head, it will feel like sandpaper on your tongue. Others begin planting higher quality coffee beans, in an attempt to differentiate themselves from the mass produced beans available on the Commercial Supermarket.

This is where the idea of Fairtrade was born. You see the Fairtrade logo everywhere these days and on all sorts of produce. And for the most part it was a pretty good idea. The theory behind Fairtrade is that the farmers need to be treated fairly. They need to be paid an amount for their beans that enables them to farm and live on a sustainable basis. Simple enough. But, when big corporations are able to push their produce through the Fairtrade system, the exact opposite occurs and instead of maintaining a minimum price that is fair to the farmer, it becomes a price that is fair to the corporation. As usual, money gets its way, in spite of the rules that Fairtrade International imposes. It was for this reason that Fairtrade USA broke away from Fairtrade International on 31 December 2011 and began imposing new rules for what constituted "fairly traded" coffee.

Is direct trade a better alternative for Coffee Farmers? Coffee producers again begin to innovate; they come up with micro-lots of highest quality speciality coffee. This is a coffee that is valued not only for the flavour in the cup, but in every step of the process from the seedling stage. It would be a disservice to these farmers to sell their beans within the Fairtrade system. For them, it is better to have a "direct relationship" with the importer, roaster and ultimate supplier of their products. They are not obliged to sell their beans at an agreed minimum price and they do not want to be subject to the volatility of the C Market.
Because the price is agreed for each and every harvest, direct trade is of course, more beneficial for the Farmer. At Colombia Coffee Roasters we believe in direct trade because we are part of a generation of coffee growers in Colombia and therefore we like to be treated fairly too. We want to cultivate long-lasting, mutually beneficial relationships with our small independent farmers we work with so that they can continue to innovate and provide a superior product that is sustainable and ethical. We pay our farmers well above fair trade prices. It allows us to assist our small independent farmers in the social and environmental problems they face.
For us Direct Trade is a "win-win". And because it results in a better cup of coffee on every level, it is a win for you too.
---