How our Loring Coffee Roaster guarantees quality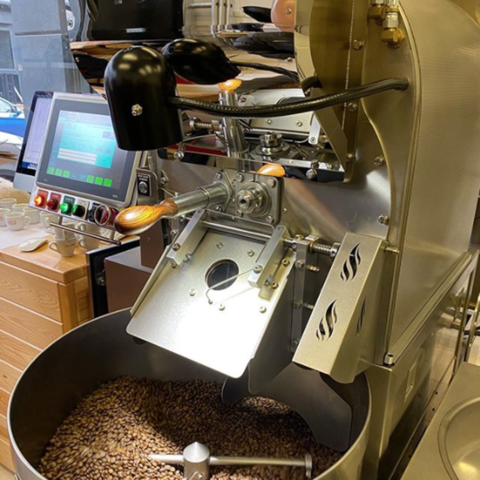 The world's best coffees require consistency and high-quality roast profiles and techniques. Here at Colombia Coffee Roasters, we are proud to use the Loring S15 Falcon Roaster. In February, we made the decision to make a step forward with this investment in an effort to continue serving you better and better coffee. Learn more about why we chose to upgrade to the Loring Coffee Roaster below.
Why we chose a Loring Coffee Roaster
Loring roasters are renowned for producing extremely clean and sweet coffees. With cutting edge technologies and precise tolerance, a Loring Coffee Roaster can roast larger quantities, allowing us to roast more efficiently. The quantity increase allows us to tailor the amount we roast in each batch to match the demand.
Some main features of a Loring Coffee Roaster which are very important to us are the Roast Smarter and Automation features. Using a single burner, the Roast Smarter feature can roast beans while incinerating smoke. Cooling time is then reduced using a high speed cooling tray to protect the coffee beans. To extend on this, the Loring Automation features allow us to focus more on the roast rather than how we handle the machine.
Another feature that is very important to us is the Smokeless Roasting feature. The Smokeless Roasting feature essentially removes smoke without an external afterburner during the roasting process. Not only does it allow us to roast extremely fresh tasting coffee but it also helps us maintain an environmentally friendly roasting operation.
Sustainability
One of the most important reasons we chose a Loring Coffee Roaster was because of their environmentally friendly attributes. As mentioned above, the smokeless roasting feature not only enhances the production of a clean and fresh coffee but also helps us to limit our carbon footprint at our roasting facility and contributes towards a new and improved eco-friendly roasting operation.
The S15 Falcon also has an advanced air recirculation system which produces up to 80% fuel-savings and reduction of greenhouse gases in every roast. This is particularly important as we are able to roast larger quantities with fuel-savings and less environmental impact.
Experience Loring for yourself
We are constantly experimenting and improving our roasts on our new machine. If you would like to experience the quality that our Loring Coffee Roaster has been producing, check out our coffees in our online store here! We are confident that our S15 Falcon truly highlights the work behind our coffees and helps us continue our mission towards showing the very best of all levels of our supply chain from seed to cup.
---