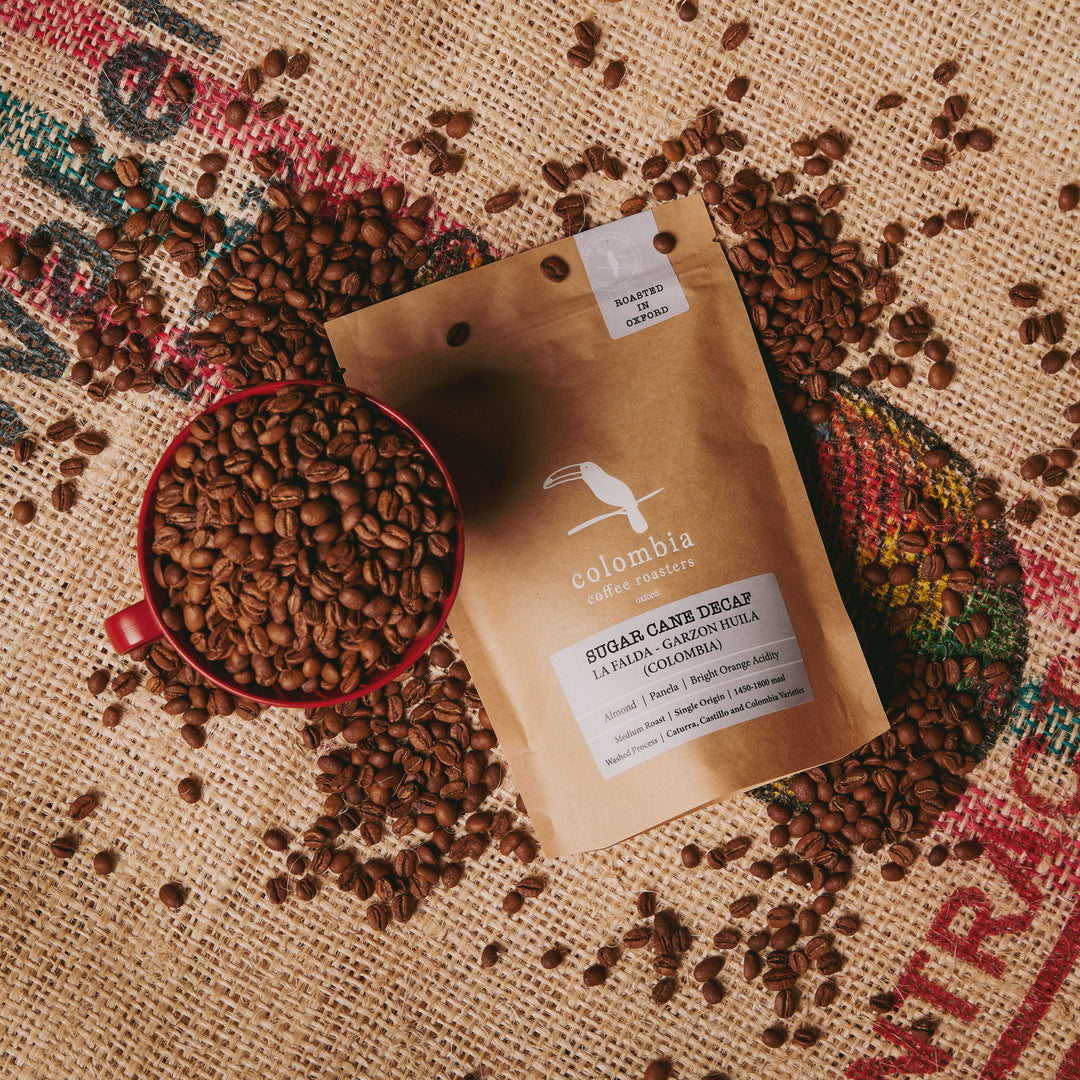 SUGAR CANE DECAF (Washed Process) Colombia
Regular price
$15.00
/
Tax included.
---
Worldwide Shipping Available
In stock, ready to ship

Inventory on the way
A naturally decaffeinated coffee using one of Colombia's other natural resources - sugar cane.
Region : Garzón - Huila, Colombia
Altitude : 1,450 - 1,800 masl
Variety: Caturra, Castillo and Colombia.
Process: Washed.
Flavour notes : Almond, Panela, Bright Orange Acidity
The sugar cane ethyl acetate (E.A.) process starts by fermenting molasses derived from sugar cane to create ethanol. This alcohol is then mixed with acetic acid, to create the compound ethyl acetate.
In Colombia, where sugar cane is readily available, it makes great economic sense to use this plentiful resource to complement the coffee industry. E.A. is also found in wine, beer, fruit, vegetables, and other food and beverage. 
This process happens at a decaffeination plant in Manizales, Colombia.
Natural Ethyl Acetate is derived from sugarcane which when combined with fresh spring water strips caffeine from the coffee.
The delicate process of decaffeinating begins at the pre-treatment step by steaming the green coffee beans with low pressure steam to remove the silver skins.
The coffee is moistened with hot water to swell and soften the beans and start the hydrolysis of caffeine which is bonded to salts inside the beans.
At the decaffeination extraction phase the Ethyl Acetate s is recirculated through the pre-treated coffee beans multiple times until at least 97% of the caffeine is removed.
Low pressure saturated steam is then applied following the extraction process to remove any traces of the Ethyl Acetate.
The coffee is then vacuum dried to remove water previously applied in the pre-treatment process to adjust the final humidity value between 10% and 12%.
Coffee is then cooled to ambient temperature using fans.
DELIVERY RATES
All zones and corresponding countries included are based on Royal Mail Delivery Rates.
Please note that our shipping is calculated based on physical weight or volumetric weight of the outer carton the product is shipped in, whichever is greater. This is due to how shipping is calculated by the providers we use.

UK (INCLUDING HIGHLANDS & ISLANDS)

Free delivery by DPD / Royal Mail for orders over £25
For Orders Below £25, there would be an extra charge of £5.99
We dispatch Monday to Friday

EUROPE
Under 0.5kg = £10.00
0.51kg - 1kg = £11.99
1.01kg - 1.5kg = £13.99
1.51kg - 2kg = £20.00

Please contact us at info@colombiacoffeeroasters.co.uk if you would like to order over 2kg.
USA
Up to 2kg = £35.00

Please contact us at info@colombiacoffeeroasters.co.uk if you would like to order over 2kg.
REST OF WORLD

Under 0.5kg = £15.00
0.51kg - 1kg = £20.00
1.01kg - 1.5kg = £25.00
1.51kg - 2kg = £30.00

Please contact us at info@colombiacoffeeroasters.co.uk if you would like to order over 2kg.
SHIPPING LIMITATIONS

Customs have strict importing regulations which are outside our knowledge (and control), this has caused many problems when trying to ship coffee to international customers. Due to these difficulties, we are only able to offer Tracked shipping and Signed shipping. We also require shipments to U.A.E, Kuwait, Qatar and Saudi Arabia to have a P.O box to ensure delivery to correct address.

International Shipping – Customs Clearance & Import Taxes:
Colombia Coffee Roasters cannot accept responsibility for customs clearance or any import tax, country-specific customs charges or local country tax. Please check with your local customs before purchasing.

We reserve the right to adjust our shipping rates at any time without prior notice. By purchasing goods from our website you are agreeing to the terms and conditions of the website and the shipping rates shown at checkout. Please contact us at info@colombiacoffeeroasters.co.uk  if you have any questions on shipping zones or rates.

Product purchased at colombiacoffeeroasters.co.uk is not for resale unless expressly agreed in writing by us.