11 perfect Christmas gift ideas for coffee lovers and more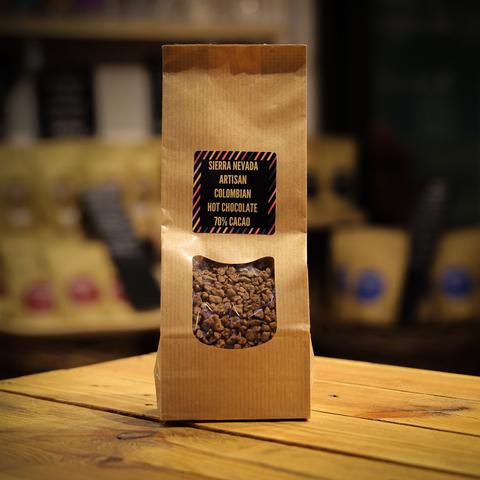 As the year draws to an end, it is time to reflect on the all the great products that we have enjoyed over the previous last months. There have been some wonderful coffee products that have truly enhanced the way that we experience drinking coffee.  As the Christmas time is upon us, you are most probably thinking about the perfect present for your loved ones or for yourself (there is nothing wrong that).
Colombia Coffee's very own Milly, carefully selected products that would make the perfect Christmas present. These presents will bring joy to coffee lovers of any degree from novice to expert.
Could we start this list with any other recommendation other than the Aeropress?
If you are seeking a simple, cost-effective way to brew outstanding coffee easily, quickly and whilst travelling then the Aeropress is your best companion. The perfect gift for all coffee lovers.
2. Grinder Hario Slim - Compact Hand Coffee Grinder
The importance of freshly ground coffee in any brewing setup cannot be overstated. Whether your preferred method is V60, Syphon, French Press, or anything else, Hario's Slim allows you to get a consistent grind every time. This is the perfect gift for any coffee lover and will surely make anyone that enjoys a good brew happy.
3.Handmade Colombia Coffee Apron
How stylish can a coffee lover get? How about with a sustainably handcrafted Colombian designed barrister apron? A great gift for all gourmands that do not want to stain their clothes.
4. Hario V60 Ceramic Coffee Dripper Red 01
This is the perfect gift for any coffee enthusiast, the Hario V60's meticulous design ensures for a perfect cup of pour-over coffee. It's portable and can easily be transported anywhere. Gift the V60 with our single origin oxford blend and the Hario slim grinder and rest assured that your gift will be the best of them all this Christmas.
At Colombia Coffee, we believe that coffee enjoyment should not be at the cost of the environment. This can be easily achieved by making the switch and getting the world's first barrister standard reusable coffee cup. Gift this to all your coffee to-go buying friends and family. The cup has been designed with coffee in mind but is also great for tea and other hot beverages. Gift the gift of sustainability this year, and do your part in taking care of the environment.
The perfect gifts are the ones that teach you something new.
Our Masterclasses are the ideal present for those seeking to learn and become better barristers (be it for home brewing or professional). All our classes are suitable for beginners, as well as for those that already have experience but who are keen to refine their technique. We offer espresso coffee, latte art and filter brewing classes.  
If all you know is that your loved one loves coffee or if you can't decide what to get them, then our gift cards are the best gift to give any coffee fan.

Of course, the best gift for any coffee lover is good coffee beans. Gift one of our flavorful festive blends:
Gentleman Espresso: is a coffee bean that is cultivated in  Nariño in Southern Colombia. This is an area that is surrounded by the active Galeras Volcanoes. It has a full creamy body, well-balanced flavour and a rich aroma with a note of hazelnut. Making it a flavorful experience, that will surely put a smile on anyone's face on these cold winter mornings.
Oxford Blend: is our bestseller, a specially crafted blend of three types of shade grown, 100% Arabica coffee beans from Brazil, and Colombia (50% Brazil (Natural) 25% Cauca Colombia (Fully washed) and 25% Narino Colombia (Fully washed) ). If it is well extracted the flavour to look out for is an almond note. Nothing signifies divine flavour more than almonds do.
If you wish to read more on flavour then read our blog post about sensory analysis here.
Our very own artisanal Colombian chocolate bars will sprinkle cheer and joy to anyone that receives them. Gift our 80% Meta dark chocolate bar or our signature roasted coffee beans covered in a layer of our finest dark chocolate.
Coffee and chocolate have a special bond, and any coffee lover will appreciate our Colombian sourced hot chocolate. What is more festive than cosying up with a cup of hot chocolate? Gift our Chocopanela which is a blend of 61% chocolate and panela raw cane sugar or our Sierra Nevada 70% pure hot chocolate. Both blends will warm up and spark joy to all hearts that it is gifted to.
11. Traditional Colombian Mochila Bags
If you are looking to gift something unique this Christmas or want to package your gifts sustainably, then nothing is more of a fashion statement then a traditional Colombian Wayuu Mochila hand-crocheted long-strap bag. The bags are made using a traditional crocheting technique and each bag is carefully handcrafted. Making it the ideal ethical and sustainably sourced accessory.
We hope that this list will give you some inspiration while you are browsing for gifts. The great thing about coffee is that it can be gifted all year round and for all occasions!
---